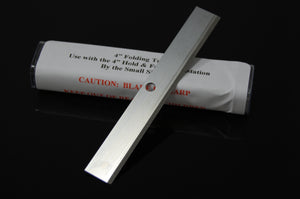 SMS017 Photo Etch 4 Inch Bending Folding Blade
For bending and folding PE parts. Complements the 4" Hold and Fold Workstation (This item is included with the 4" tool).
Features
Using the correct blade helps you fold longer parts easier
Beveled edge to make perfect folds on your PE parts.

NOTE: Plastic storage case may differ from photo

No need to purchase this item if ordering the SMS003 4" Hold and Fold - it is included free with the tool.
NOT INTENDED FOR USE BY CHILDREN UNDER THE AGE OF 14 YEARS - USE ONLY WITH ADULT SUPERVISION

Small Shop® and Hold and Fold® are Registered Trademarks and may not be used without our permission.