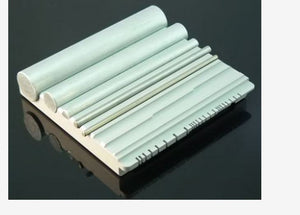 SMS006 Photo Etch Bending and Rolling Deluxe Brass Assist - DISCONTINUED AS OF 10/09/2023
Regular price $67.59 Sale
"True" cylinders, tie downs, hinges, clamps, brackets & grab handles all with one tool.
100% Made in the USA by The Small Shop®


 Excellent for shaping radius, U-Shape or cylinder parts.

 Includes one each Aluminum rods 3/4", 1/2" & 1/4"

 Includes one each Stainless Steel rods 3/16" & 1/8"

 4"x4" CNC Machined Rolling Base

 High grade aluminum hard anodized in a clear finish.

 Machined channels are perfect for your rolling needs!

 Soft rolling deck enables 'true' cylinders to be rolled

 Beams to form tie downs, hinges, tool clamps & brackets

 Bending Comb - Matched Grab Handles every time!

 Designed for use with soft copper or brass wire. Semi-hard wire should first be annealed "heat to dull red and allow to air cool".

 Not for use with hard wire.

Large slots use max 1mm wire and smaller slots use max 0.5mm

 NOT INTENDED FOR USE BY CHILDREN UNDER THE AGE OF 14 YEARS - USE ONLY WITH ADULT SUPERVISION

 Instruction tips for getting the most from all the features
 Review on IPMS/USA by Charles Landrum
Small Shop® and Hold and Fold® are Registered Trademarks and may not be used without our permission.