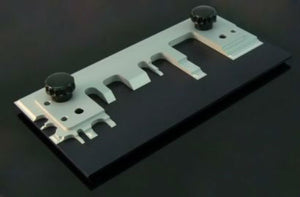 SMS005 Photo Etch Bending Tool 8" Mk R Multi-head Hold and Fold® - PRODUCT DISCONTINUED
Regular price $74.99 Sale
Features:
100% Made in the USA by The Small Shop®
Twin clamping for far superior clamping power.
Secures parts up to 8″ long.
Spring-loaded tool head rotates to put either face along the edge.
Head & base are machined from aircraft grade aluminum.
Multi-position tool head for extra room on larger parts.
Handles Photoetch in ANY scale.
Power wedges for thicker brass – scratch building.
Head is hard anodized clear & black.
Deep cut-outs for box shapes.
Beveled base for folding longer and smaller grooves.
Works on the smallest and largest PE detail parts.
Great for all large Automotive scales 1:6, 1:12, 1:16 etc.
A MUST HAVE for 1:24 and larger scale kits.
Combine with the SMS002 "Bug" for all your PE bending needs
Ideal for rail, ships, architectural and scratch built models.
Instructions, small folding blade and SMS019 8" blade included.
NOT INTENDED FOR USE BY CHILDREN UNDER THE AGE OF 14 YEARS – USE ONLY WITH ADULT SUPERVISION
Small Shop® and Hold and Fold® are Registered Trademarks and may not be used without our permission.